Your search has returned no results.
AVC to serve as after-hours primary emergency care clinic for PEI pets
New ER clinic will benefit pet owners, veterinarians, and veterinary students
| Atlantic Veterinary College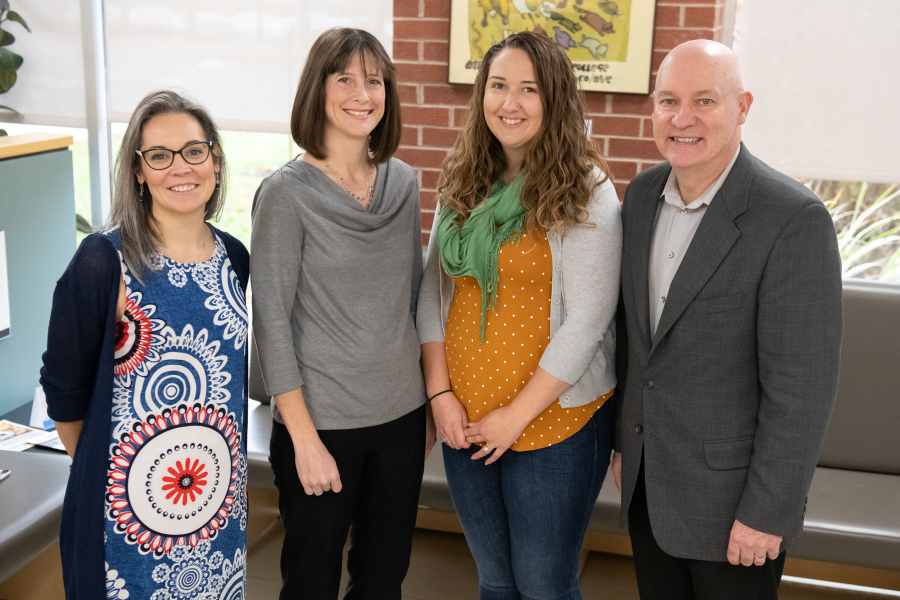 Starting January 6, 2020, the Atlantic Veterinary College at UPEI will serve as the small animal after-hours primary emergency clinic for most of the private veterinary clinics on Prince Edward Island.
"We are very excited about this initiative," said Dr. Heather Gunn McQuillan, director of the AVC's Veterinary Teaching Hospital. "We have spent the last two years working closely with the PEI Veterinary Medical Association (PEIVMA) and private veterinarians in the province to develop an emergency clinic that will meet their clients' needs and hopefully allow Island veterinarians to have a better work-life balance, while enhancing the student learning process at AVC."
The AVC Primary Emergency Clinic will provide emergency services on evenings and weekends for private practices that subscribe to the service. The clinic will be staffed by veterinarians, registered veterinary technicians, and receptionists, all working on a rotational basis. It will be an extension of Island pet owners' regular veterinary clinics, and the cost will be similar to emergency fees charged by private clinics on PEI.
Clients experiencing an emergency with a pet can come directly to the AVC Veterinary Teaching Hospital or call the hospital at 902-566-0950. Injured or sick pets brought to the emergency clinic will be assessed by the veterinarian on duty and support team. Diagnostics, treatments, and procedures will be done in-house. 
Patients will be discharged once their service is complete within the VTH, and their primary care veterinarian will be notified of the visit. Primary care clinics will also be notified if their patients are admitted to the VTH for hospitalization. In consultation with the owner, patients requiring advanced care can be referred internally to the appropriate specialty service in the VTH.
"In all situations," said Gunn McQuillan, "client service, patient care, and a practical approach will be of utmost importance. The client's regular veterinarian will continue to be engaged and consulted."
The emergency clinic will offer the same standard of care that pet owners receive from their family veterinarian. Referred cases from local or regional clinics will continue to flow through the normal process at the VTH and will be directed to the appropriate specialized service. 
"The PEIVMA is both excited and supportive of the Atlantic Veterinary College Primary Emergency Care Clinic," said Dr. Caitlin Matters, president of the association and one of the clinicians who will staff the clinic. "This clinic will provide necessary emergency care to the public outside regular office hours, allowing local veterinarians a better work-life balance."
Dr. Jill Wood, co-owner of Southport Animal Hospital, echoed Dr. Matters' comments.
"As private practitioners, we are very excited about this initiative," said Wood. "It will make a vast difference in work-life balance for both veterinarians and their on-call technicians and assistants. Clients and patients will not arrive to their veterinary appointments to find an exhausted veterinarian who has been up all night with an emergency; and in those instances when a client finds themselves in need of after-hours care, they will have a world-class facility to head to with staff already on-site and waiting to help."
Dr. Greg Keefe, dean of AVC, said the emergency clinic will be of significant benefit to the College's veterinary students. Initially, veterinary students will volunteer in the clinic and subsequently, a rotation in primary emergency care for fourth-year students will be created. 
"Most veterinarians have to deal with emergency cases on a regular basis," said Keefe. "Under the supervision of experienced veterinarians, this new service will enhance the knowledge base and practical skills our students need to practice primary emergency medicine after they graduate."
 
Media Contact
External Relations Officer, AVC
Marketing and Communications
902-566-6786, 902-566-0949