Your search has returned no results.
Just a few more days to buy tickets to the 50 Years, 50 Members UPEI Sports Hall of Fame gala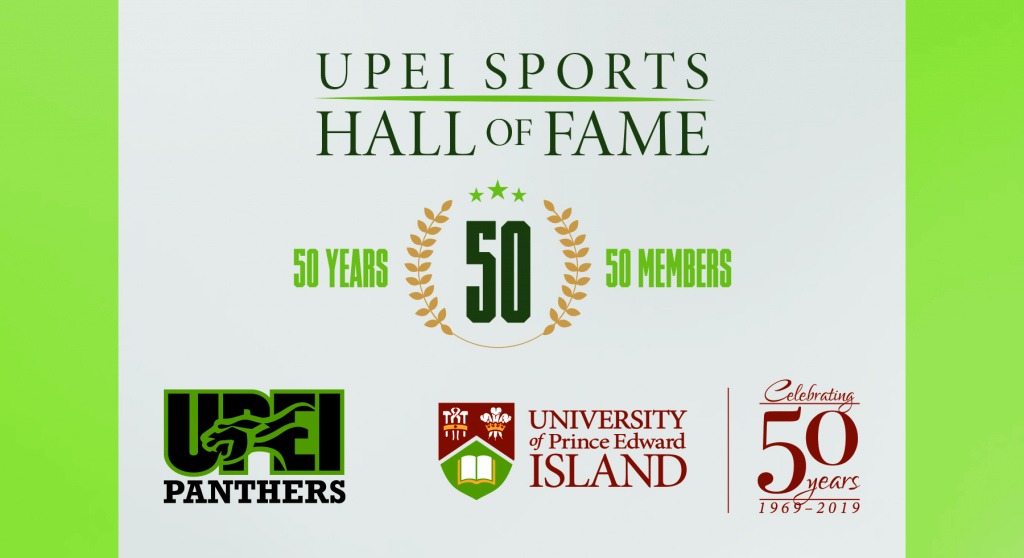 There are just a few more days to reserve your tickets to the UPEI Sports Legacy Celebration on November 14, where the newest members of the UPEI Sports Hall of Fame will be inducted. Tessa Roche, Vernon Pahl, and the 1984–85 UPEI Men's Hockey team will be the 48, 49, and 50th inductees, respectively, bringing the total membership of the UPEI Sports Hall of Fame to 50.
The inductees will formally take their place in Panther history at the event, which will be held in the UPEI Chi-Wan Young Sports Centre. The gala reception begins at 6 pm, with dinner and induction ceremony to follow. Tickets are $50 each and can be purchased by dropping by the Panther Central desk or calling 902-566-0368. Tickets are on sale until Friday, November 8.
All 50 members of the UPEI Sports Hall of Fame are invited to participate in the festivities on November 14, as well as an exciting weekend of UPEI Panther Sport. On Friday night, November 15, starting at 6 pm, the women's and men's basketball teams will host Dalhousie University. Hall of Fame members will be recognized and introduced to current student-athletes and fans between games.
On Saturday, November 16, UPEI Men's Hockey will host the national champions, UNB Varsity Reds, at 7 pm at MacLauchlan Arena, while the women's and men's basketball teams take to the court in the gymnasium. And on Sunday, November 17, the U SPORTS  9th ranked women's hockey Panthers, host of the U SPORTS national championship in 2019 and 2020, will play Saint Mary's at 3 pm.
The UPEI Sports Hall of Fame was founded in 2001 to recognize individuals who have made significant contributions to the athletic programs at the University of Prince Edward Island, Saint Dunstan's University, or Prince of Wales College. Each year, individual athletes, teams, and builders are inducted to honour their contributions towards the University's athletic success or community leadership.
About the inductees
During her time at UPEI (BA 2012, MSc 2016), Tessa Roche played on both the women's soccer and hockey teams. The foundation of UPEI Women's Soccer from 2005–2010, Roche was a three-time AUS scoring leader, with 46 career goals. She was named a First-Team AUS All-Star five times and a First-Team CIS All-Canadian twice. Roche now works at UPEI as clinic coordinator for the SPOR-PEI Primary and Integrated Healthcare Innovation Network.
Vernon Pahl came to UPEI to focus on academics and football. In 1976, he was being encouraged by UNB, which had a varsity football program at the time, to play in Fredericton. Pahl elected to go to UPEI, feeling he would have fewer distractions at the Island university. His decision proved fruitful as he went on to be a Panther football great, CFL champion (Winnipeg Blue Bombers, 1984 and 1988), and successful lawyer.
The 1984–85 UPEI Men's Hockey team, coached by PEI and UPEI Hall of Famer Vince Mulligan, won UPEI's first AUAA championship in exciting fashion. Bobby MacDonald scored the memorable OT winning goal to give the UPEI Panthers the 1985 title as UPEI defeated Moncton in game two of the best-of-three championship series at a packed and electrified Charlottetown Forum. The Panthers line-up included scoring talent such as Greg Gravel, league MVP the previous season; Ron Carragher; Norman Beck; and Randy Muttart. Rob Moffat and Darwin McCutcheon played great two-way defence, and the goaltending duo of Tony Haladuick and Dave Reid was solid between the pipes. The full roster includes Garth Arsenault, Norman Beck, John Butler, Ron Carragher, Don Clow, Doug Currie, Steve Fulton, Dave Reid, Greg Gravel, Tony Haladuick, Bob Hicks, Bob MacDonald, Darwin McCutcheon, Randy Muttart, John Pocock, Rob Moffat, Dan Revell, Albert Roche, Gordie Roche, Kevin Skilliter, Jeff Steffan, and Todd Sutcliffe. The coaching staff included head coach, Vince Mulligan, assistant coach Kevin MacNeil, and trainer Paul Peacock. 
Go Panthers Go!