Your search has returned no results.
AVC presents 2019 Green Hat Award to PEI's Apple Valley Farm
Recognizing contributions to AVC
| Atlantic Veterinary College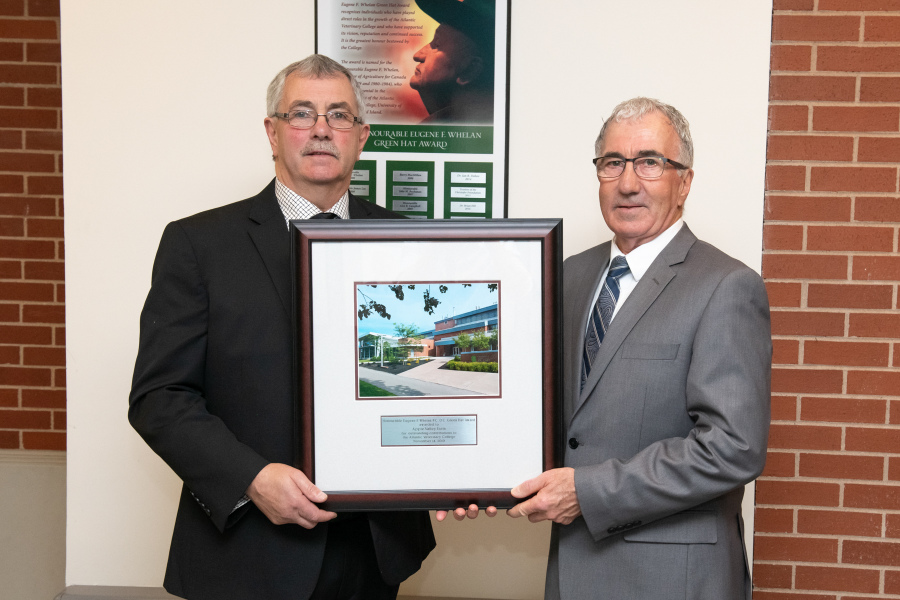 The Atlantic Veterinary College at UPEI presented the 2019 Hon. Eugene F. Whelan Green Hat Award, to Apple Valley Farm, a swine production facility in Pisquid, PEI, on November 14, 2019.
Dr. Dan Hurnik, professor of swine health management at AVC, and Dr. Shawn McKenna, associate professor of ruminant health management and service chief of AVC Farm Service, nominated the farm for the award. Dr. Hurnik read the citation at the ceremony.
AVC established the award in 2000 to pay tribute to people and organizations that have had a significant and positive impact on the College and veterinary medicine in Atlantic Canada. The award is the highest honour given out by the College.
Citation:
Apple Valley Farm, a swine production facility in Pisquid, has a long history. The farm was established in 1779 by John MacDonald who emigrated from Scotland in 1772. Donald and Reg MacDonald are the 8th generation, managing the farm. Donald and Reg have been loyal clients of AVC's Farm Service unit since it opened in 1989, and they have contributed to the College's mandate of education, research, and service.
From the beginning, they welcomed students and AVC faculty and staff to their farm for clinical teaching. They also take their own time to come to the College where they sit down with students in small group settings to talk about herd investigation scenarios being presented by the students. They would openly share their farming practices, engage the students, and demonstrate how veterinarians and farmers can work together. They have provided our students with some of the greatest learning opportunities they could have, based on "real life" scenarios that cannot be replicated artificially. Every class at AVC has benefited from their participation in our teaching program. 
Their contribution does not end with our students. Since 1989, AVC's Diagnostics Services has benefited immensely from the regular case-load moving through its post-mortem, virology, and bacteriology labs. Apple Valley Farm and the weekly submission from International Genetics PEI and Boar Stud—Donald and Reg's other farms—would likely have been among our largest private submitter of diagnostic requests. 
Donald and Reg have contributed to, and initiated, some of the important research and development opportunities that have happened in the swine industry over the years. In the 1990's, Apple Valley Farm were early adopters of AVC's Animal Health and Productivity Network (APHIN), and later they were supporters of AVC's Industry Chair on Swine Research, helping to bring research collaboration among the three Maritime provinces to the College.
The strong relationship between UPEI and the provincial government in swine health, including the development of rigorous provincial animal health regulations, was supported  by the connection between Apple Valley Farm and AVC.
But Donald and Reg's leadership in the swine industry goes beyond the local and the national arenas. They are internationally renowned as producers of purebred swine breeding stock. When their clients in Russia, China, Cuba, and Latin America purchased breeding stock, they always ensured that AVC was recognized as a key to good sustainable pork production. In doing so, Apple Valley Farm has helped widen the vision and reputation of AVC and our contribution to the swine industry far beyond the borders of PEI.
We thank Donald and Reg for their many contributions to advancing swine health here at home and on the world stage, and are proud to present Apple Valley Farm with the Atlantic Veterinary College's 2019 Honourable Eugene F. Whelan Green Hat Award.
 
Media Contact
Communications / AVC External Relations Officer
Marketing and Communications
902-566-6786, 902-566-0949