Your search has returned no results.
UPEI announces the Panther Subway Athletes of the Week, September 23 to 29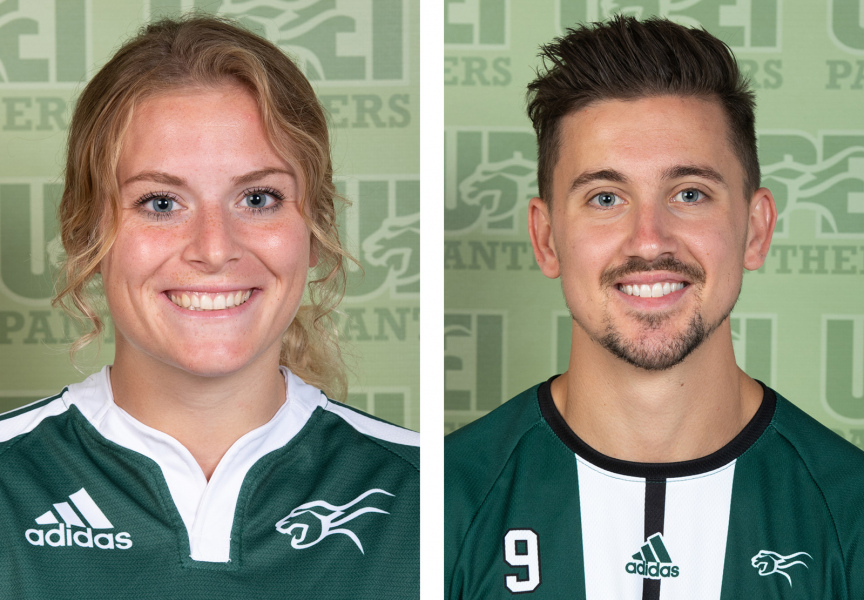 Every week, UPEI Athletics and Recreation recognizes two student-athletes for their achievements and dedication to their respective sports. Congratulations to Tara Campbell and Sam Smiley, the UPEI Panther Subway Athletes of the Week for September 23 to 29.
Campbell is a fourth-year flyhalf on the UPEI women's rugby team and a science student from Summerside, PEI. She scored a career high four tries in the Panthers 65–5 win over Saint Mary's University. Three of those tries came on runs of more than 40 yards. "Tara created a lot of opportunities for herself in the run game and benefitted from the team's strength in scrums," said coach John LaBoyne. "Tara runs with a tremendous amount of passion and power and showed it on Saturday."
Smiley is a fifth-year forward on the UPEI men's soccer team and an arts major from Stratford, PEI. Smiley scored two goals in a 3–3 draw against Dalhousie on Sunday. He also assisted in the game-winning goal earlier in the weekend against Mount Allison University. "Sam was the difference-maker for the men's soccer team this weekend," said coach Lewis Page. "In two tight games, he created and scored chances that kept us firmly in the playoff hunt."
Go Panthers Go!