Your search has returned no results.
Faculty of Business alumnus kicks off UPEI Alumni Speaker Series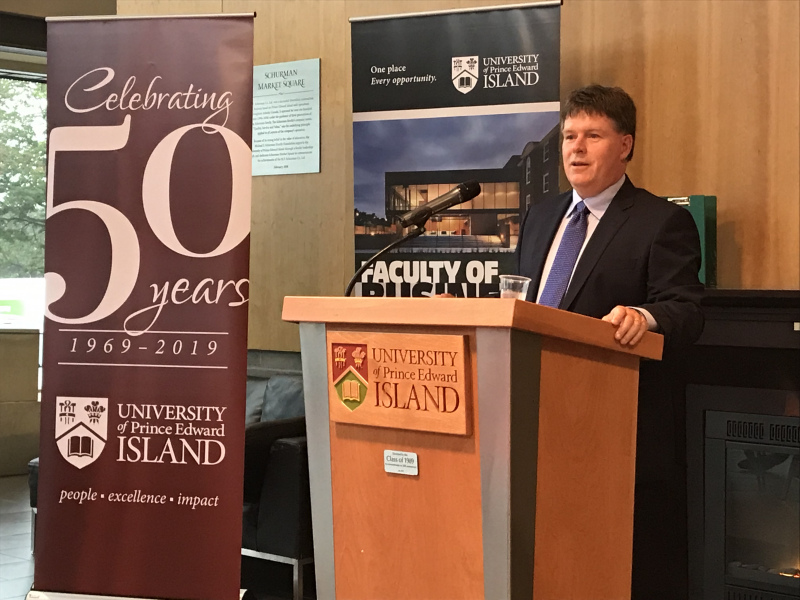 UPEI Faculty of Business alumnus Kevin Ladner, Executive Partner and CEO of Grant Thornton, gave the first talk in the University's 50th anniversary Alumni Speakers Series on Wednesday, September 11 in Don and Marion McDougall Hall.
Ladner reminisced about his time at UPEI, and then spoke about his work at Grant Thornton, sharing some insights he gleaned since joining the accounting and business advisory firm in 1985 after graduating with his BBA that same year.
"One of our greatest strengths at Grant Thornton is the culture we've created, where businesses, people, and fresh thinking can thrive," Ladner said. "Our award-winning culture has allowed us to attract and retain an exceptional team. And we're all driven by a collective passion to help our clients succeed."
Ladner earned his Chartered Accountant designation in 1988 and Chartered Business Valuator in 1988. A native of PEI, he has held many prominent positions at Grant Thornton, including office managing partner. He served on the company's policy board (2003–2006) and as regional managing partner for Atlantic Canada (2006–2016), and has been executive partner and CEO since April of 2016. He assists clients and non-clients with valuation and financing issues and has considerable experience in the litigation support area.
Ladner explained that Grant Thornton has long realized that it needs to be dynamic and a change leader in order to be able to guide clients in disruptive environments. "If you're not growing yourself, you're dying. We are continually evolving and transforming, providing new services—such as in cloud accounting and cyber security—because we know our clients need timely and strategic advice from people who understand what they are facing, and who care."  Ladner added that the Grant Thornton team isn't afraid of change, and is committed to doing things differently to drive client success.
In closing, Ladner gave some career advice to the students in the audience. He reminded that making diversity and inclusion a priority in the work environment creates success, and is "just the right thing to do."
Ladner said, "Follow your passion, because your career is more than a job. Take risks, because you have lots of time to recover from any bumps you encounter along the way. Manage your work-life balance early as it will sustain your career. And, give back to the community—the more you give, the more satisfaction you will have. It's our social responsibility to give back, and to connect with those who support us."
Created to celebrate UPEI's 50th anniversary, the Alumni Speakers Series will feature presentations by alumni from each of the eight faculties at the University.  Dr. Leslie Steele, DVM '97 spoke on October 3, while Dr. Christine Cassidy, BScN '13 will speak on October 10, 2019. Visit upei.ca/50 for more information on UPEI's fiftieth anniversary.