This page is more than 2 years old. Links and contact information may have changed.
UPEI extends condolences on the passing of Father Charlie Cheverie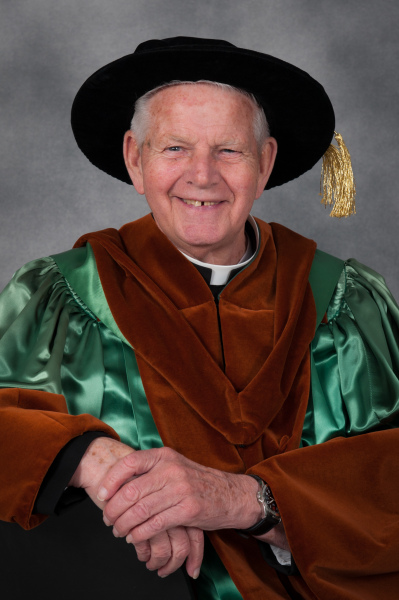 University of Prince Edward Island President and Vice-Chancellor Alaa Abd-El-Aziz issued a statement to the University community today on the passing of UPEI alumnus, donor, professor emeritus, and founder, the Reverend Charlie Cheverie, LLD.
"Our University has lost a great friend in Father Charlie," said President Abd-El-Aziz, "He had such immense impact on students, faculty, and staff as well as the broader community through his pastoral ministry and involvement in the revival and preservation of traditional music on the Island."
"On behalf of the entire UPEI community, I pass on my most sincere sympathies to Father Charlie's family, friends, and colleagues—his religious brothers and sisters, fellow fiddlers and musicians, as well as his academic peers."
Fr. Cheverie had an outstanding 38-year career as a professor of biology at Saint Dunstan's University and UPEI, followed by a 14-year term as University Chaplain.
In 2015, UPEI conferred the degree of Doctor of Laws, honoris causa, upon Fr. Charlie for his service as an educator, priest, musician, mentor and in recognition of his profound and lasting personal impact, and his many years of professorial, spiritual, and cultural leadership.
"Father Charlie was a joy to be around, his smile was infectious, and the glint in his eye always sparkled. He and his impact will be remembered forever," added President Abd-El-Aziz.
Father Charlie passed away on August 31. Flags at the University will fly at half-mast in his honour. Once funeral arrangements are confirmed, a further message will be issued to the campus community.