Your search has returned no results.
UPEI announces the Panther Subway Athletes of the Week, September 2 to 8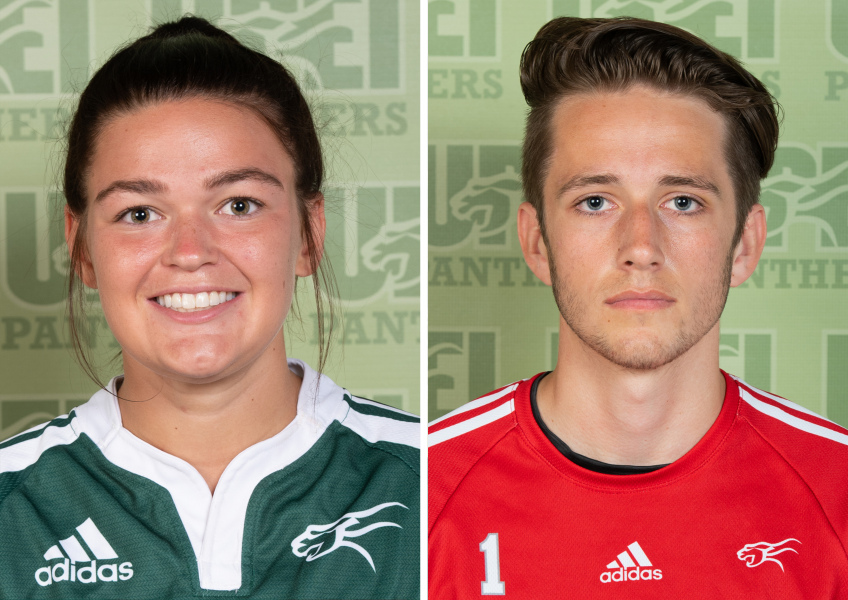 Every week, UPEI Athletics and Recreation recognizes two student athletes for their achievements and dedication to their respective sports. Congratulations to Brinten Comeau and Evan Couturier, the UPEI Panther Subway Athletes of the Week for September 2 to 8.
Brinten Comeau is a flank on the UPEI Women's Rugby team and a second-year student in the Faculty of Arts. The Hammonds Plains, Nova Scotia native was named the Century 21 UPEI Defensive Player of the Game for the team's home opener against St. Francis Xavier on Friday. "Brinten tackled players much bigger than herself to stop them gaining any significant yardage," said coach John LaBoyne. "In attack, she broke through the FX defense with piecing runs and offloading to teammates to make gains for the Panthers."
Evan Couturier is a goalkeeper on the UPEI Men's Soccer team and a first-year Faculty of Business student from Lower Coverdale, New Brunswick. The Panthers started the season this weekend with a pair of losses on the road. Couturier was starting keeper Sunday against two-time U SPORTS Men's Soccer championship finalists Cape Breton University, making seven saves. "Evan started on short notice and showed no signs of nerves facing CBU at home," said coach Lewis Page. "The rookie goalkeeper gave us a preview of what is going to be a great AUS career."
Go Panthers Go!