Your search has returned no results.
Panthers at Home, September 27 to 30: The Homecoming edition!
Men's hockey home opener, women's hockey exhibition, plus ruby and soccer defend home turf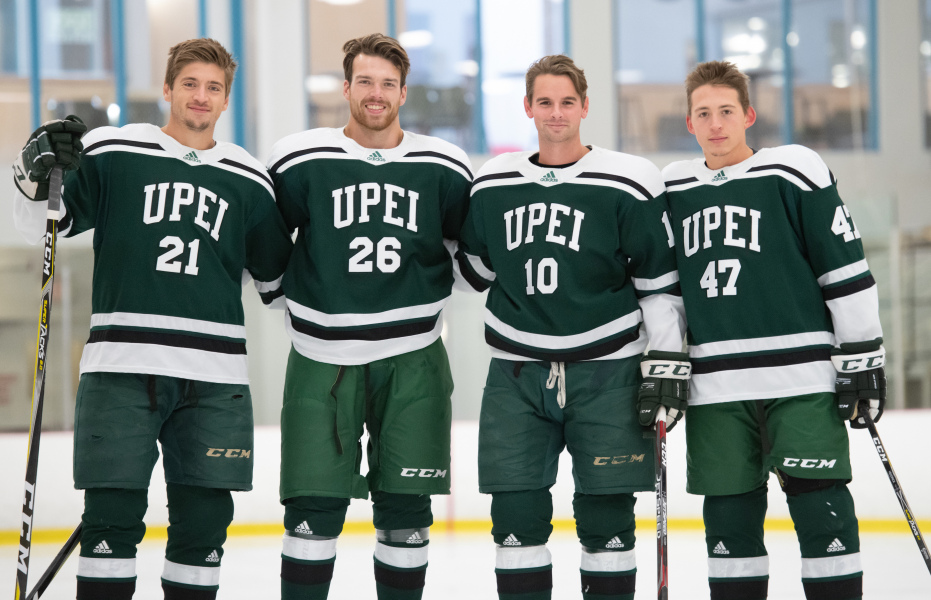 It's Homecoming Weekend at UPEI in our 50th year! The Panthers are looking to make it a memorable one with action from UPEI's hockey, rugby, and soccer teams.
Friday
The UPEI men's hockey team starts Homecoming Weekend with a bang as it hosts Dalhousie University in MacLauchlan Arena A at 7 pm. Coach Forbes MacPherson says the pre-season has been important for the 2019–2020 Panthers, and he's excited for this home opener.
"We have been spending lots of time getting this group together and working on different elements of our game, so we are excited to get the regular season underway," he said. "This weekend will give us a good chance to continue to work through our structure and build chemistry. It is important to get off to a good start for putting points in the bank and feeling good about our game."
The men's game will also honour the 1969–1970 Panthers—the very first UPEI men's hockey team.
While the men kick off the regular season, the women's hockey team will be playing one of its final exhibition matches across the hall in MacLauchlan Arena B against Saint Mary's University. The puck drops at 7:30 pm.
"The team is looking forward to a busy three-game weekend," said coach Bruce Donaldson. "Any time you play three games in this conference, it makes for a great test. We have made some changes in our line-up, and we're excited to see how these changes work."
Saturday
UPEI women's rugby kicks off a busy Saturday with a game against Saint Mary's University. The game begins at 2 pm on the UPEI Alumni Canada Games Field.
"SMU is in the same boat as us, having to start the season against two of the top teams in Canada," said coach John LaBoyne. "We are both 0 and 3 and hungry for a win. Last year we had to come from behind late to earn a very hard-fought win against the Huskies. I think both teams are looking to have a good run-out on Saturday."
LaBoyne ponts out Saturday's game is Alumni Game Day. He's anticipating many past players will be on hand to celebrate Panthers' rugby.
At 3 pm, the UPEI women's hockey team is back on the ice for an exhibition game against St. Francis Xavier University. Coach Donaldson said the game is especially hard coming off the game the night before against SMU. "Between these two programs, they have won more AUS Championships then any other programs combined in our conference."
Sunday
Sunday belongs to UPEI soccer as both the men's and women's teams host Dalhousie. The women's game begins at 1 pm on the UPEI Turf Field.
"Dal will be tough, and we'll have to be equally tough, physically and mentally," said Glen Miller, coach of the women's team. "Ultimately the body only does what the mind tells it to do."
The men's game begins at 3:15 pm. 
"We have had some great games versus Dalhousie over the years, and the rivalry is alive and well this season," said coach Lewis Page. "We will look to continue our fast-paced brand of soccer."
It's not too late to pick up your Panther Package to get access to all this great action! For just $100, you get season home game tickets to all men's and women's soccer, women's rugby, women's hockey, and men's and women's basketball! See gopanthersgo.ca/tickets for details.
Go Panthers Go!