Your search has returned no results.
AVC receives $1.3 million in federal funding for dairy research
Supporting the growth and sustainability of the dairy industry
| Atlantic Veterinary College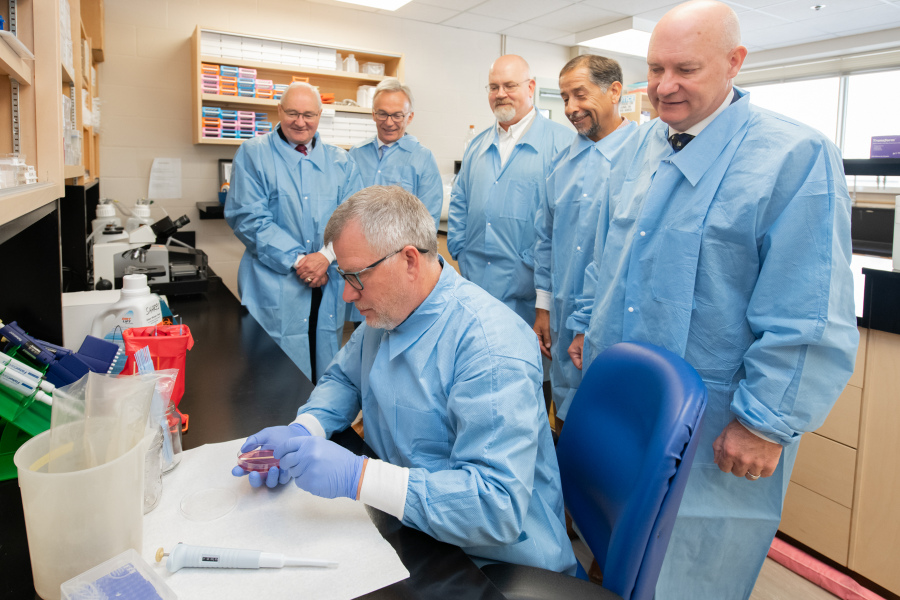 The Atlantic Veterinary College, University of Prince Edward Island, has received approximately $1.3 million in funding from the federal government's dairy cluster program for research projects that will benefit the dairy industry.
The Hon. Wayne Easter, MP for Malpeque, and Sean Casey, MP for Charlottetown, announced the funding at an event held at AVC on Thursday, August 29. The projects are part of the $16.5-million dairy research cluster, led by Dairy Farmers of Canada, and funded by the federal government and the industry. 
Dr. Javier Sanchez, professor of epidemiology, and Dr. Luke Heider, assistant professor—Farm Service, received $1.25 million for a project to measure antimicrobial use and antimicrobial resistance in relation to animal health in support of a Canadian Dairy Network of Antimicrobial Stewardship and Resistance to help guide farmers in best practices. Another $1 million from other government and industry sources has been contributed to the project, which will involve all five veterinary schools in Canada.
Antimicrobial resistance (AMR) is increasingly becoming a serious issue worldwide, said Sanchez. Increased resistance of bacteria to antibiotics, including bacteria that cause illness in humans, has been linked to antimicrobial use in livestock. It is importance to understand how different bacteria act and how they move in different farm environments in order to stop development of AMR, and also stop transmission to other populations.
The MPs also announced $148,000 in federal funding to a project led by co-principal investigators Dr. Greg Keefe, dean and professor at AVC, and Dr. J McClure, professor of large animal medicine. This project, the total value of which is $269,000, is to extend cow life on dairy farms by improving calf management practices in the first year of life.
Keefe said that farmers invest several thousand dollars into a calf before it starts producing milk, but if the animal produces milk for only one or two years, they do not earn back their initial investment. They will look at calves to determine what can be done to help them attain their maximum genetic potential.
During the event, Easter stressed the value of the dairy industry as an economic driver for PEI and Canada, noting that he himself was a dairy farmer.
"We are working hard to ensure a prosperous future for our farmers, including continuing investments in animal research and innovation to keep the industry at the forefront in quality and efficiency, while creating well-paying jobs for our families."
Casey said these investments will ensure the industry has the right tools and practices to continue to provide safe, high-quality products to consumers.
Dr. Kathy Gottschall-Pass, interim VP Academic and Research for UPEI, thanked the federal government for supporting the projects. "The dairy industry plays a key role in Canada's economy, and we are proud to work with the industry to support its growth and sustainability through our research expertise." 
Keefe and Sanchez also thanked the Government of Canada and the Dairy Farmers of Canada for their support of their projects and the dairy industry. 
 
Media Contact
Communications / AVC External Relations Officer
Marketing and Communications
902-566-6786, 902-566-0949