This News Story is more than 3 years old. Links and contact information may have changed.
2019 Chinook Project provides care to animals in northern Labrador
Helping animals and people in Canada's North
| Atlantic Veterinary College
Dr. Marti Hopson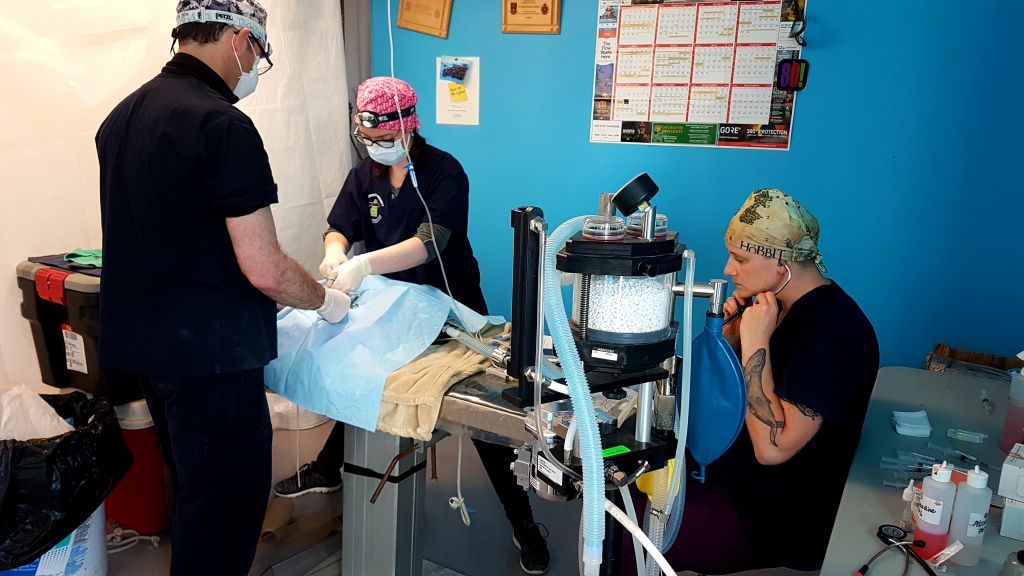 In June 2019, the Chinook Project team travelled to northern Labrador to provide free veterinary services to two locations. Nain is the northernmost community in Labrador, and this was the fifth time the Chinook Project has visited the hamlet. Natuashish (moved from Davis Inlet in 2002) is one of the two Innu communities in Labrador.
The Chinook project has visited this community three times in the past, the last visit being in 2015. Both communities have multiple positive rabies cases each year. In addition, a canine distemper outbreak in Natuashish in 2018 affected the dog population greatly.
The team spent 4.5 clinic days in each location, and saw many animals for vaccinations, deworming, and spay/neuter surgeries, as well as any other procedures such as dentistry and eye surgery. In all, approximately 150 medical appointments and 50 surgeries were performed. In Natuashish, members of the team visited the school to speak to youth about humane education topics and opportunities in animal sciences such as the Dr. Tim Ogilvie AVC Vet Camp.
The veterinarians who travelled this year are mostly from AVC: Dr. Heather Gunn-McQuillan, Dr. Peter Foley, and Dr. Mike West. Dr. Becky Jackson, of Happy Valley-Goose Bay, also attended for the first week of the trip. Five fourth-year veterinary students participated in the rotation: Bryan Welch, Ashley Kroyer, Heather Chandler, Veronica Ells, and Rachael Speare. More information about the Chinook Project can be found on Facebook and at www.chinookproject.ca