Your search has returned no results.
UPEI and Janssen Inc. partner on health innovation
JPEI–HIP will combine expertise to support health system transformation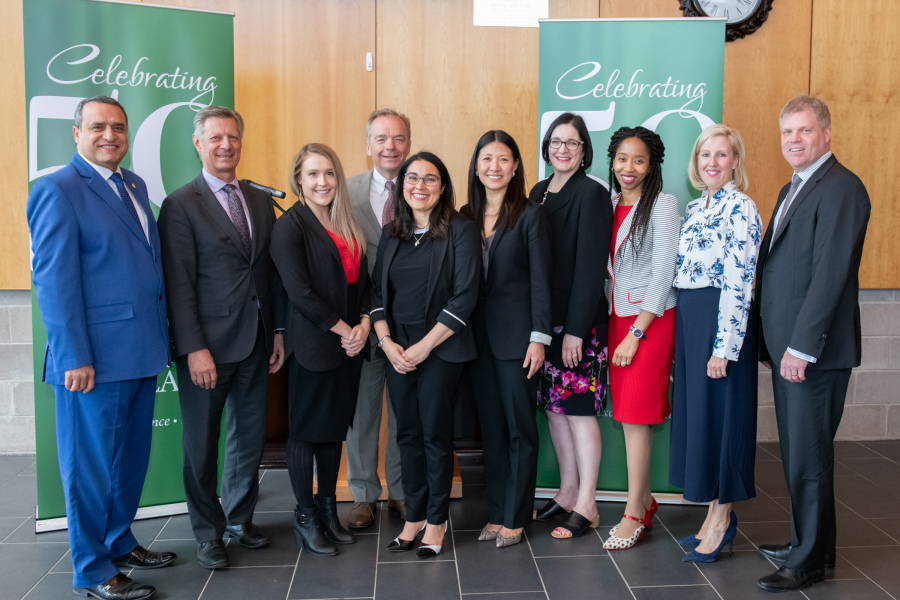 At an event on May 28, the University of Prince Edward Island and Janssen Inc. officially announced their partnership that aims to understand and improve the PEI health system and patient outcomes.
The announcement featured several representatives from Janssen Inc., including President Chris Halyk, and from the University, Dr. Alaa Abd-El-Aziz, President and Vice-Chancellor, and Dr. William Montelpare, Professor and Margaret and Wallace McCain Chair in Human Development and Health. Dr. Montelpare's Health-Centered Research Clinic on the UPEI campus will be the home base for the research collaboration.
"The Janssen–Prince Edward Island Health Innovation Partnership (JPEI–HIP) will focus on real-world-evidence projects that involve data generation," said Dr. Montelpare. "JPEI–HIP presents an exciting opportunity to help shape heath-care research in PEI to support the development of new health systems and the improvement of current systems."
In December of 2018, UPEI established a collaboration agreement with Janssen Inc., marking the start of the partnership and leading to today's announcement. After the event, the University hosted a project kick-off meeting for the core research team that comprises members from UPEI, Health PEI, and Janssen Inc.
"We are so grateful to Janssen Inc. for their generous support and for Dr. Montelpare's leadership on this exciting project that will deliver research outcomes in the area of precision health," said President Abd-El-Aziz. "JPEI–HIP will combine the expertise of patients, researchers, clinicians, and policy makers to support system transformation. This will have incredible value for the Province, the research community, and Islanders."
Contact
Nicole Phillips
Acting Director
Marketing and Communications