Your search has returned no results.
This page is more than 2 years old. Links and contact information may have changed.
The Journal of L.M. Montgomery Studies launches today!
Open-access journal is published by the L.M. Montgomery Institute and Robertson Library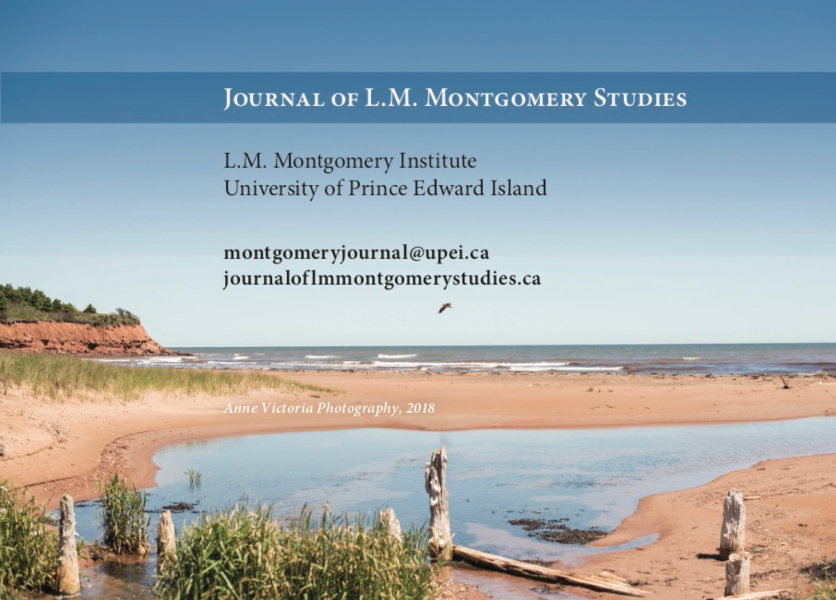 The L.M. Montgomery Institute and UPEI's Robertson Library has launched the Journal of L.M. Montgomery Studies. The open-access journal is the only journal dedicated to one of the world's most enduring writers, Prince Edward Island's L.M. Montgomery.
Montgomery is the author of Anne of Green Gables, among nineteen other novels, as well as hundreds of short stories and poems. She also composed letters, journals, and scrapbooks. The Journal of L.M. Montgomery Studies is a refereed, open-access digital space. Its mandate is to publish intriguing, highly original, rigorously researched scholarship on all aspects of L.M. Montgomery's life, influences, creative work, and legacy. The journal's scope is interdisciplinary and international. The journal is aimed at Montgomery scholars and the broad community of Montgomery enthusiasts.
"The LMMI is delighted to announce this journal which celebrates and honours Canadian icon L.M. Montgomery," said Dr. Kate Scarth, UPEI's Chair of L.M. Montgomery Studies and assistant professor in Applied Communication, Leadership, and Culture, and editor of the Journal of L.M Montgomery Studies. "As well as global support from our editorial board and submitters, so many people at UPEI—the president, LMMI committee members, and the library staff—have made the journal possible. It is our way of celebrating UPEI's 50th and the LMMI's 25th anniversary last year in 2018."
The journal is the official scholarly publication of the L.M. Montgomery Institute (LMMI) at the University of Prince Edward Island. The L.M. Montgomery Institute Management Committee establishes the journal's focus and scope and appoints the editorial board.
"The growing field of Montgomery Studies engages established and emerging scholars from across the world," said Dr. Philip Smith, chair of the LMMI. "This journal, based on Montgomery's Island home, and accessible to researchers and fans internationally, advances her legacy and new understandings of the implications of her life and works."
The journal has a continuous publication schedule and accepts submissions year-round. Articles, as well as video, digital projects, creative writing, and other innovative work, will be published online and will be available on the journal's website. Hard copies of a series of articles, such as those associated with LMMI biennial conferences, will periodically be made available for purchase via print on demand.
Dr. Scarth's co-editor is Dr. Emily Woster, Visiting Scholar of the LMMI and a professor in the Department of English, Linguistics, and Writing Studies at the University of Minnesota Duluth. Dr. Elizabeth "Betsy" Epperly, past-president of the University of Prince Edward Island, is an honorary editor.
Questions about publication types and the submission and review process can be directed to the managing editors at montgomeryjournal@upei.ca.
The journal is possible thanks to funding from the Social Sciences and Humanities Research Council of Canada and the office of UPEI's President and Vice-Chancellor, Dr. Alaa Abd-El-Aziz, who is a staunch supporter of L.M. Montgomery Studies at UPEI.
The Journal of L.M. Montgomery Studies can be found at journaloflmmontgomerystudies.ca.
The University of Prince Edward Island prides itself on people, excellence, and impact and is committed to assisting students reach their full potential in both the classroom and community. With roots stemming from two founding institutions—Prince of Wales College and Saint Dunstan's University—UPEI has a reputation for academic excellence, research innovation, and creating positive impacts locally, nationally, and internationally. UPEI is the only degree granting institution in the province and is proud to be a key contributor to the growth and prosperity of Prince Edward Island.
Contact
Dave Atkinson
Research Communications Officer
Marketing and Communication
(902) 620-5117