Your search has returned no results.
UPEI Master in Global Affairs students hold conference in Strasbourg
Tackling critical global issues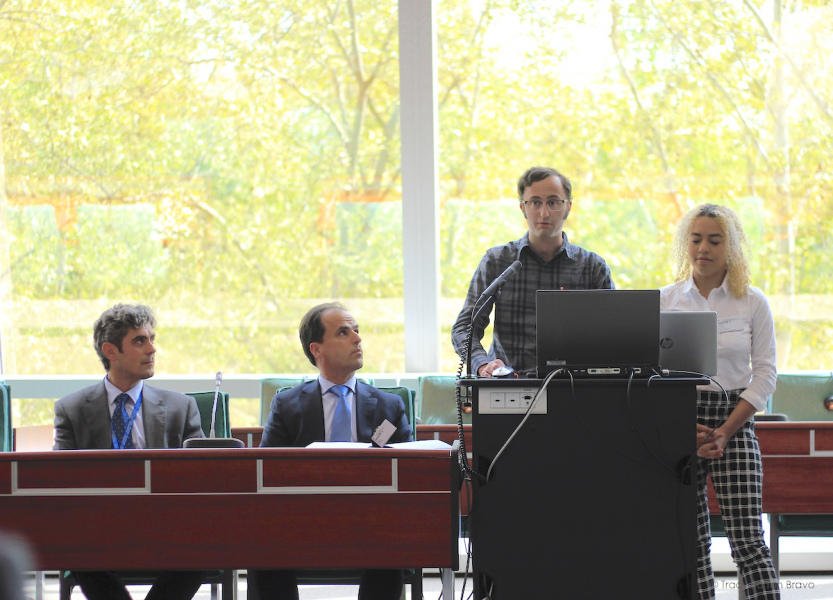 Students in the University of Prince Edward Island's inaugural one-year Master in Global Affairs (MGA) program held a conference on refugee resettlement on April 23, 2019, at the Council of Europe (CoE) in Strasbourg, France, in collaboration with the European Student Thinktank.
The students began their studies at UPEI last September, took classes at Universidad Rey Juan Carlos in Madrid earlier this year, and were in Strasbourg this spring. UPEI and Universidad Rey Juan Carlos are offering the program jointly.
The conference was introduced by guest speakers Dr. Juan Ignacio Iquino Lafuente, Deputy of the Permanent Representation of Spain to the CoE, and Dr. Javier Ramos López, Rector of Universidad Rey Juan Carlos.
MGA students Claire Byrne and Michael Pass moderated the discussion and introduced the panelists. Local business owner Clémence Collomb-Gros talked about her experience participating in the Strasbourg edition of the Refugee Food Festival through her restaurant, Le Botanist, while Jocelyn Dougan, RN, who is also a student in the MGA program, discussed refugees and mental health in Canada. Carlota Núñez Strutt, the MGA's Coordinator of Relations with International Organizations and former president of the European Student Thinktank, gave concluding remarks.
After a brief break, participants and MGA students split into two groups and held working group discussions that included topics such as human rights and resettlement, and the role of policy-makers, international organizations, NGOs, and communities in resettlement. The conclusions were presented to the rest of the participants and will soon be published.
"Through the MGA program, our students are tackling some of the most pressing issues facing our world today," said Dr. Doreley Coll, UPEI program coordinator. "Their experiences will equip them to be leaders in finding solutions to global challenges."
The University of Prince Edward Island prides itself on people, excellence, and impact and is committed to assisting students reach their full potential in both the classroom and community. With roots stemming from two founding institutions—Prince of Wales College and Saint Dunstan's University—UPEI has a reputation for academic excellence, research innovation, and creating positive impacts locally, nationally, and internationally. UPEI is the only degree granting institution in the province and is proud to be a key contributor to the growth and prosperity of Prince Edward Island.
Contact
Anna MacDonald
Communications Officer
UPEI Marketing and Communications