Your search has returned no results.
This page is more than 2 years old. Links and contact information may have changed.
UPEI exceeds INSPIRE! Campaign goal, ahead of schedule
Over $50 million reasons to say THANK-YOU!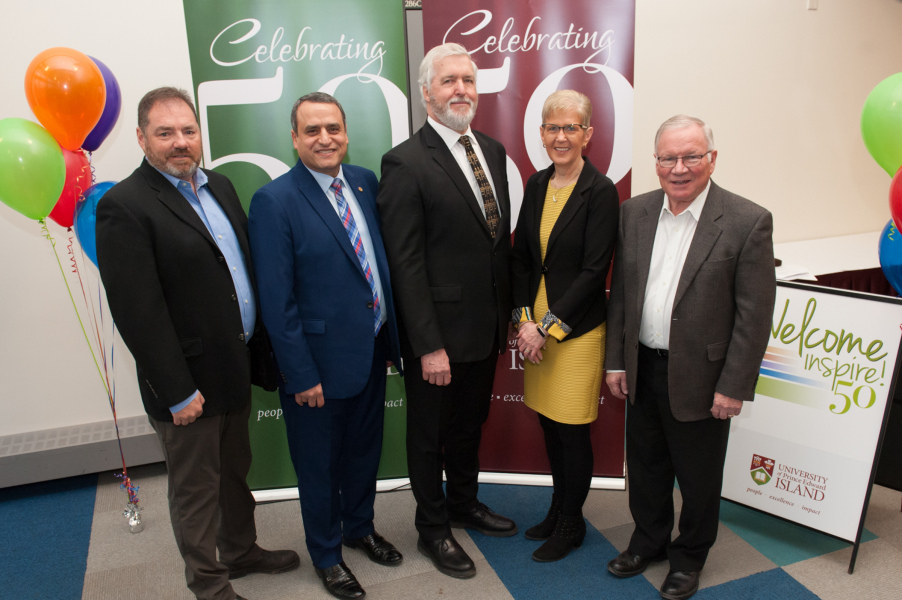 Dr. Alaa S. Abd-El-Aziz, President and Vice-Chancellor, and J. Gordon MacKay, Chair of The INSPIRE! Campaign, announced today that through the support of alumni, friends, foundations, companies, and government, the University of Prince Edward Island has exceeded its campaign goal of $50 million. UPEI has raised $50,256,292 to support its strategic priorities of creating new knowledge and delivering exceptional learning experiences that prepare students for success.
In addition to surpassing the campaign target ahead of schedule, the President also announced that UPEI has secured another $3 million donation from private donors, who wish to remain anonymous, and which has been earmarked for several health and wellness initiatives over and above INSPIRE! projects.
"This is a great day for UPEI and our students, faculty and staff. With 3,013 donors—679 of them new—from 10 countries, including all 13 provinces and territories in Canada, and 32 states in the United States, The INSPIRE! Campaign has been a tremendously successful and far-reaching friend- and fund-raising effort," said President Abd-El-Aziz. "Along with our campaign chair, Gordon and co-chairs, Blair MacLauchlan, Ray Keenan, Donna Hassard, and John Horrelt, I thank all of our donors for making this ambitious goal become reality."
Launched on October 2, 2015 in conjunction with Founders Day and the participation of UPEI past-presidents Dr. Ron Baker, Dr. Peter P.M. Meincke, Dr. Elizabeth Epperly and Premier Wade MacLauchlan, The INSPIRE! Campaign had four priority areas: sustainable design engineering, experiential and global learning, veterinary medicine, and athletics and recreation. Led by a cabinet and team of champions, the campaign was slated to continue until October 2019, but will now wrap up six months early, during UPEI's 50th anniversary year.
"This effort has been about friend-raising," added MacKay. "It was important to have people involved who were supporters, not necessarily only alumni, but those connected to, and known by, the different communities that were our four priorities. We have built strong relationships that will benefit UPEI in many ways for years to come."
MacKay concluded the event and the campaign with recognition for President Abd-El-Aziz and Myrtle Jenkins-Smith, executive director, and the staff of the Department of Development and Alumni Engagement.
"With their leadership and coordination, we've not only achieved our goal, but have exceeded it, and ahead of schedule," said MacKay. "Those of us who became part of the Cabinet and champions are proud to be associated with UPEI, and although today marks the end of the campaign, it will not end our association with this excellent institution."
Contact
Nicole Phillips
Associate Director
Marketing and Communications
(902) 566-0947