This News Story is more than 5 years old. Links and contact information may have changed.
UPEI celebrates Pride Week by raising flag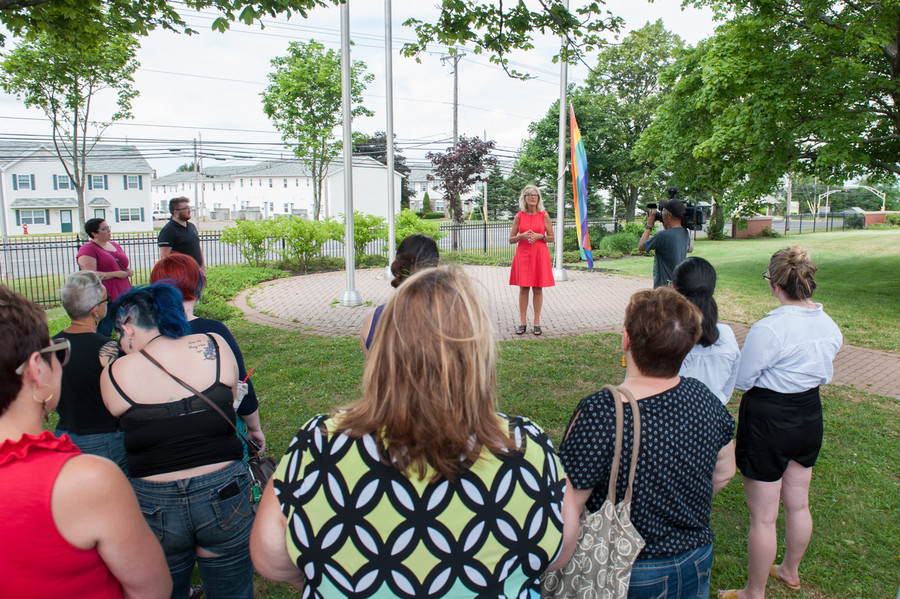 UPEI Student Affairs, in partnership with the Queer Collective, raised the Pride flag on Monday, July 23, at noon at the flag plaza near the Kelley Memorial Building.
The flag raising was greeted by the largest-ever crowd in the event's eight-year history, as students, staff, faculty, and community members attended the short ceremony. Brittany Jakubiec from the Queer Collective greeted everyone, while Treena Smith, director of Student Affairs, offered a few closing remarks on behalf of her department. Greetings and words of support also came from Jackie Podger, UPEI's vice-president Administration and Finance; Dr. Ann Braithwaite, coordinator of the Diversity and Social Justice program; and Sarah MacEachern, vice-president of student life for the UPEISU.
The raising of the flag recognizes that UPEI supports all of its students, faculty, and staff and celebrates PEI Pride Week, July 23–27. Pride PEI is raising flags at different locations across the province today.
The University of Prince Edward Island prides itself on people, excellence, and impact and is committed to assisting students reach their full potential in both the classroom and community. With roots stemming from two founding institutions—Prince of Wales College and Saint Dunstan's University—UPEI has a reputation for academic excellence, research innovation, and creating positive impacts locally, nationally, and internationally. UPEI is the only degree granting institution in the province and is proud to be a key contributor to the growth and prosperity of Prince Edward Island.
Contact
Dave Atkinson
Research Communications Officer
Marketing and Communication
(902) 620-5117