This page is more than 4 years old. Links and contact information may have changed.
UPEI introduces multi-user all-gender washrooms on campus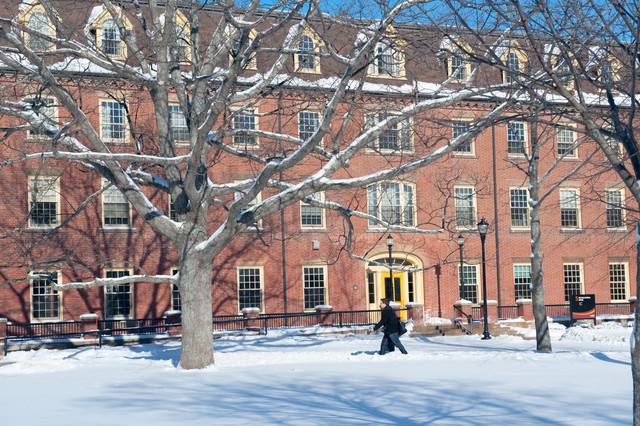 UPEI will open multi-user all-gender washrooms on the main levels of the Robertson Library and SDU Main Building on March 5, Vice-President Administration and Finance Jackie Podger announced in a memo to students, faculty, and staff.
All-gender washrooms are spaces that anyone can use, regardless of their gender identity or expression. Podger wrote that re-designating the washroom spaces to all-gender allows UPEI to be more inclusive, help provide a safer campus environment, and be welcoming to all members of the campus community.
While UPEI has already re-designated several single-user washrooms across campus to be all-gender, these spaces will be the first multi-stall washrooms in public areas that have been converted for all-gender use.
"By expanding the washroom options on campus, we are able to offer conveniently located, comfortable, and safe facilities for a greater number of people," said Podger. "UPEI values diversity and inclusion, so when we heard from campus community members and the UPEI Student Union, we worked together to respond to the needs of campus by re-designating these spaces to all-gender."
All-gender washrooms are beneficial for transgender and gender non-conforming people, who often experience harassment and even physical violence in gender-specific facilities.
UPEI Student Union President Chelsea Perry said, "Having all-gender washrooms, whether multi-stall or single-user, makes the UPEI campus safer and more welcoming. This expansion of facility options shows that UPEI respects everyone's right to choose the washroom that is appropriate for them."
A number of multi-stall washrooms on campus will remain gender-specific, but are inclusive for all those who identify with that gender.
In an effort to create awareness about all-gender washrooms, the Robertson Library has partnered with Dr. Ann Braithwaite, professor in Diversity and Social Justice Studies, to present "Toilet Training (Law and Order in the Bathroom)," a documentary video that surveys the policing of gender in restrooms—and the persistent discrimination, harassment, and violence towards people who do not culturally fit as male of female. The presentation is part of the Robertson Library video series and will be shown on Monday, March 5 at 4:30 pm in the LINC, with a discussion to follow.
The University of Prince Edward Island prides itself on people, excellence, and impact and is committed to assisting students reach their full potential in both the classroom and community. With roots stemming from two founding institutions—Prince of Wales College and Saint Dunstan's University—UPEI has a reputation for academic excellence, research innovation, and creating positive impacts locally, nationally, and internationally. UPEI is the only degree granting institution in the province and is proud to be a key contributor to the growth and prosperity of Prince Edward Island.
 
Contact
Nicole Phillips
Associate Director
Marketing and Communications
(902) 566-0947