Your search has returned no results.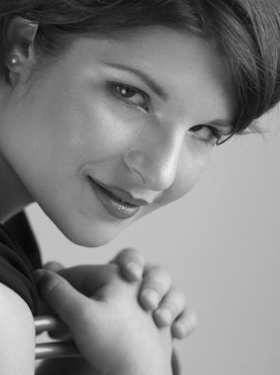 Name:
Magdalena von Eccher
Email:
mvoneccher@upei.ca
Position:
Assistant Professor
Building:
Steel Building 205
Island Scholar Biography
BMus, MMus, DMus (ABD)
Magdalena von Eccher is recognized as one of Canada's finest musicians. Her performances as solo pianist, with orchestra, collaborating with singers, and in chamber music are earning the highest praise from fellow musicians and are loved by audiences. Magdalena's musical communication is always personal, poetic, and of the highest artistic calibre. Along with her performing career she is an enthusiastic and engaging teacher and adjudicator, having been on faculty at the University of Lethbridge Department of Music and at McGill University's Schulich School of Music. 
Success in numerous competitions, including the Knigge, Bösendorfer, Canadian Music Competition and winning the National Music Festival (2006), alongside extensive studies, have well prepared Magdalena for a blossoming career. She completed her Bachelor of Music at the University of Lethbridge (recipient of the Faculty of Fine Arts Gold Medal) with Glen Montgomery, and holds a Master of Music from the University of British Columbia studying under the guidance of Jane Coop. Having an affinity and love for vocal repertoire, Magdalena has studied with distinguished collaborative artists Michael McMahon (McGill University) and Rena Sharon (UBC). Participation in summer programs at Orford, Vienna, Salzburg, as well as a residency at the Banff Centre were generously supported through scholarships from her respective universities, the Strauss Foundation, and the Alberta Foundation for the Arts. 
Since 2007, Magdalena has been a favourite at the Festival of the Sound in solo performances as well as in collaboration with artists such as the festival's director, James Campbell, Denis Brott, Cameron Crozman, Marion Newman, James Somerville, and visual artist, Alan Stein. Recipient of the prestigious Joseph-Armand Bombardier Graduate Scholarship from the Social Sciences and Humanities Research Council of Canada, Magdalena is a doctoral candidate at McGill University with Stéphane Lemelin.
This season's engagements have included performances at the Canadian Opera Company in Toronto with soprano, Anna-Sophie Neher, McGill University, and concerto appearances with the Lethbridge Symphony Orchestra and the Rocky Mountain Symphony Orchestra. 
Magdalena is thrilled to join the faculty at the Music Department of the University of Prince Edward Island in Fall 2019.