Atlantic Veterinary College students win four awards at the AVMA Animal Welfare Assessment Contest
AVC teams placed second and third in the veterinary student division and Hannah Spitzer received two awards in the graduate student division.
| Atlantic Veterinary College
Rachel Cutcliffe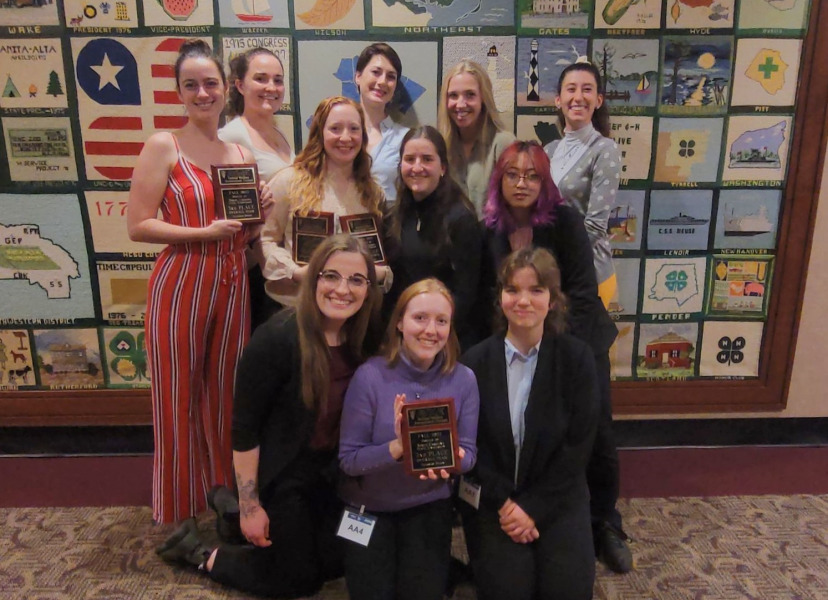 The Atlantic Veterinary College (AVC) at the University of Prince Edward Island is proud to congratulate two teams of doctor of veterinary medicine (DVM) students, and one graduate student who brought home awards at the recent American Veterinary Medical Association's (AVMA) Animal Welfare Assessment Contest.
The contest was held at North Carolina State University in Raleigh, North Carolina, and it was the first year that it was held in person since the COVID-19 pandemic began. More than 220 students and veterinarians representing 23 universities across North America participated. The AVC brought a strong contingent of 11 students that were supported by the Sir James Dunn Animal Welfare Centre (SJDAWC), the AVMA, and the Universities Federation for Animal Welfare.  
"We were so pleased that our students were able to participate in the contest in person this year as it is a more immersive experience and a great opportunity for networking and relationship building," says Dr. Kathryn Proudfoot, associate professor, AVC, and director, SJDAWC. "I am so proud of our students, they worked incredibly hard, and spent a long time preparing for the contest this year."
Coached by Drs. Proudfoot and Michael Cockram, the DVM student teams placed second and third in the veterinary student division. The second-place team was comprised of all first-year DVM students and included; Laura Groves, Rebecca Michelin, Gabrielle Doiron, Hannah Kennedy, and Tsukasa Iwamoto. The third-place team was comprised of second-year DVM students and included; Brianna Forbes, Devyn Enwright, Lily Mitchell, Cassandra Smith, and Alyssa McGee. Hannah Spitzer, master of science student, received two awards during the contest, placing first place in the individual live scenario and ranked fourth overall in the graduate student division.
The contest is open to DVM students, undergraduates, and graduate students, and provides a unique educational experience. It uses hypothetical, realistic computer-viewed scenarios and in-person site visits where students assess and evaluate animal welfare using science-based methods and reasoning. This year, participants evaluated the welfare of show chickens, dairy-beef cattle, octopus in an aquarium, and shelter dogs and cats. They then presented their findings to a panel of judges, including both animal welfare scientists and veterinarians. 
"This is a unique opportunity for our students to put their skills and knowledge into practice," says Dr. Proudfoot. "It also helps increase their awareness and education about current animal welfare issues."
Media Contact
External Engagement Officer
Atlantic Veterinary College