"Experiential education" is the systematization of experiential learning opportunities, across campus and in the community. At UPEI, the new Experiential Education and Work-Integrated Learning office showcases and supports the university's experiential programs and initiatives, while building capacity to help students navigate an increasingly complex work world.
---
Professionalization Badge
In 2018-19, the Experiential Ed office is offering a new, non-credit digital Professionalization badge for UPEI students who want to develop and demonstrate their professional competencies. Sign up here to be added to our mailing list for workshop schedules and program updates.
You can access the Professionalization badge program and resources through our Moodle courses. Enrol yourself by following these links:
Questions? Email us at experientialed@upei.ca
Winter 2019 Workshop Schedule
Join us in the Career Studio in Dalton Hall 209 for weekly drop-in, skill-building workshops as part of the Professionalization badge program!
When: Every Thursday from 4:30 to 6:30 PM 
Where: Career Studio (Dalton Hall, 209)
Why: The world of work is changing. These interactive workshops will help you develop the communication skills employers are looking for and labour market literacies that will help you achieve your goals. Complete all of the workshops to participate in a 10-hour job shadow experience.
Weekly topics:
January 10: Interpersonal Communication
January 17: Teamwork
January 24: Conflict Resolution
January 31: Digital Presence
February 7: Job Skills & Pathways
February 14: Networking
February 28: Resume Writing
March 7: Interview Preparation
March 14: Work Futures
---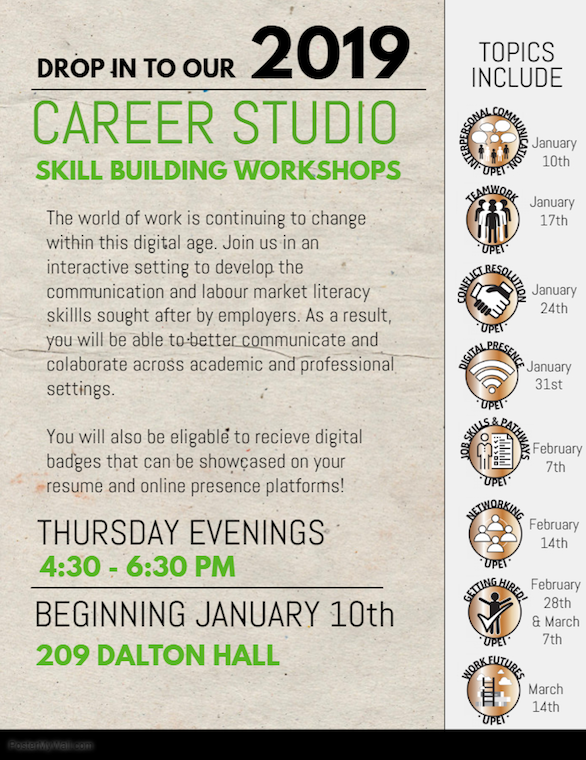 ---