"Experiential education" is the systematization of experiential learning opportunities, across campus and in the community. At UPEI, the new Experiential Education and Work-Integrated Learning office showcases and supports the university's experiential programs and initiatives, while building capacity to help students navigate an increasingly complex work world.
Coming soon as part of Atlantic Career Week!
Entrepreneurship at UPEI: Opportunities for Students Now and Beyond Graduation
Panel Discussion
Wednesday, November 7, 4:30 to 5:45
Location: MCDH 242 
Students, staff, and faculty all welcome!
Communication Skills One-Day Badge
The Communication Skills badge is part of UPEI's Professionalization badge program, aimed at helping students develop the skills and competencies that employers are looking for. Complete the full Communication Skills badge in this 1 day intensive workshop and develop a strong foundation for successful communication and collaboration in academic and professional settings.
Topics covered will include:
Interpersonal communication
Digital presence
Teamwork
Conflict management
When: November 13 from 9:00 to 4:00
Where: Andrew Hall 142
Sign up HERE
---
Professionalization Badge
In 2018-19, the Experiential Ed office is offering a new, non-credit digital Professionalization badge for UPEI students who want to develop and demonstrate their professional competencies. Sign up here to be added to our mailing list for workshop schedules and program updates.
You can access the Professionalization badge program and resources through our Moodle courses. Enrol yourself by following these links:
Questions? Email us at experientialed@upei.ca
---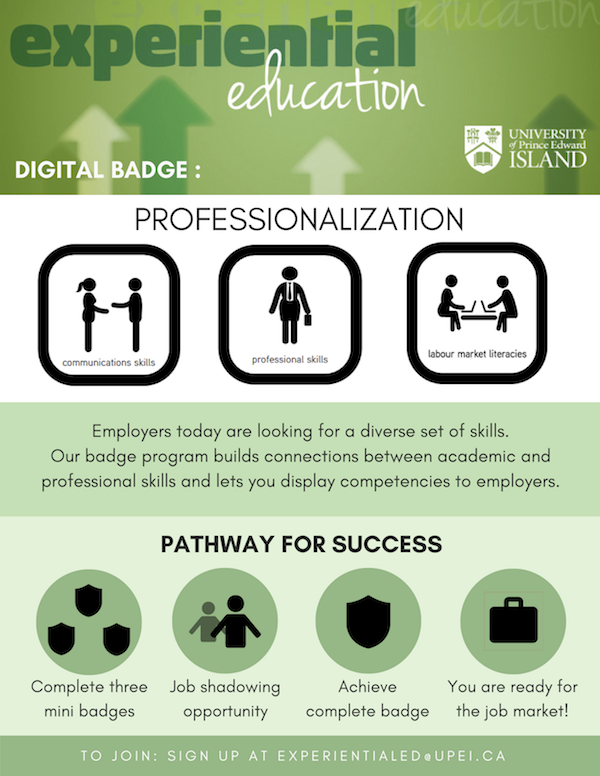 ---