The UPEI Digital Badge Programs are free, non-credit, open to all students, and consist of both live, virtual workshops and online activities centred around the following themes:
The goal of the programs are to give students an opportunity to make connections between their academic, extra-curricular, work and volunteer learning, and employability skills employers are seeking. There are various paths to take within the program, including taking part in a job shadow or engaging with the broader UPEI community through campus affiliated work.
Students can enter the programs at any point through attending workshops of their choice or enrolling in the corresponding Moodle courses. There are four main topic areas, each comprising four workshops and online activities. Take a look at the program map, check out the courses, or visit the Digital Badge Schedule page for a list of workshop dates and times.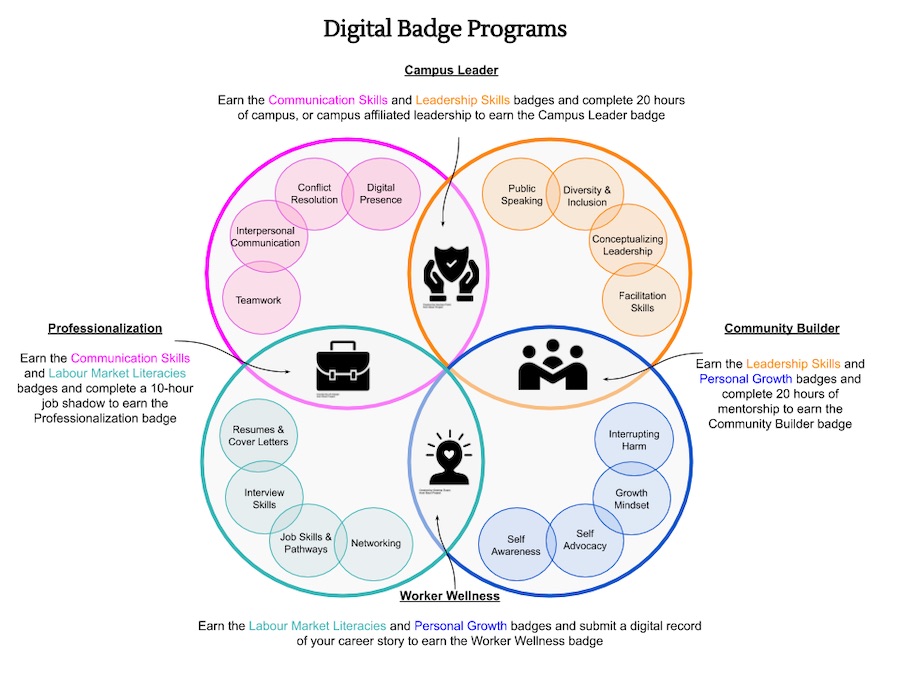 For your understanding, here are some frequently asked questions and answers:

What are digital badges?
A digital badge is a micro-credential, verified by UPEI, that students can earn and display to showcase specific sets of skills, experiences and competencies.

How do I earn a digital badge?
To earn a digital badge, start by either attending one of the corresponding program workshops that run each semester, or enrol in our digital badge Moodle courses and complete the online activities under each topic at any point in your degree!

What is the value of a digital badge?
The value of earning badges is that they can be used to display your badge to employers to help showcase your skills, competencies, and experiences. Badges are clickable icons that open to display metadata that helps people understand the work that was undertaken in order to earn it. You can display your badges on LinkedIn, your ePortfolio, and other online platforms, or use the metadata to help you articulate your achievements on your job applications.
We look forward to meeting you!
Questions? Email experientialed@upei.ca.