Other International Opportunities
Other international opportunities exist for students outside our group of partner institutions.
2018 Killam Fellowship Award! 
Application deadline is January 24, 2018
Would you like to spend a semester in the USA at one of our prestigious Killam Fellowship partner schools?
Award value: 
US$5,000 for one semester
US$750 Health Insurance Allowance
Up to US$800 for in-country travel
Killam Orientation in Ottawa, ON
Spring Seminar in Washington, DC
Eligibility:
Canadian citizenship
Full-time undergraduate student in good standing
English proficiency
All the information you require can be found here. 
---
2018 JACAC Student Forum 
Hosted by J.F. Oberlin University in Tokyo, Japan
February 18–24, 2018
This year's theme: "The Crisis in the Humanities: Reconsidering the Studies of the Humanities in the Age of Technology and Innovation". 
For application information and more, visit the JACAC website. 
At the forum, which includes lectures from experts, discussion, group work, etc., Japanese and Canadian students will spend a week together working on this theme in order to investigate the roles and outcomes of the studies of the Humanities in our time, especially in the context of Japanese and Canadian cultures and societies.
This program is open to anyone with a general interest in the theme of "Crisis in the Humanities". We welcome applications from students in all academic disciplines. Since all activities will be conducted in English, no prior knowledge of the Japanese language is necessary.
---
Backpacking With a Purpose - 2018 Applications now open!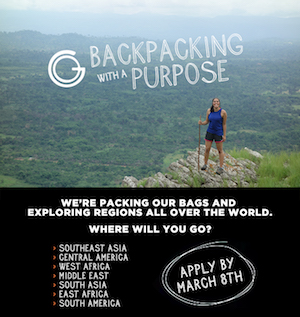 Discover the wider world and connect with change makers making a positive and lasting impact in their communities.
Operation Groundswell is a non-profit that runs travel, community service, and experiential education programs around the globe. We dig into social justice issues while working in solidarity with local activists, non-profits, and communities. We want you to join us in the fight for a better world.
It's time to make the whole world your classroom! 
Apply by March 8!
Programs are filling up quickly, so apply as soon as possible. Financial assistance is available for all students on five- and six-week programs. Start exploring at: www.operationgroundswell.com. 
Can't travel in the summer? We travel all year long! 
---
Spanish Summer School in Mexico City
May 8 to June 20, 2018
In partnership with St. Mary's University (SMU) and the Centre for Foreign Students (CEPE) at the National Autonomous University from Mexico (UNAM), the Spanish program at SMU has developed a Spanish Summer School in Mexico City where students will be immersed in a 7 week program. During the seven week program students will live with a Mexican family, attend Spanish classes at CEPE UNAM (in accordance with their level of proficiency after a placement test), attend a Latin American Travel Literature class (with visits to national museums, libraries, national archives and historical sites).
SPAN 3320 "Latin American Travel Literature", to be offered in Mexico, summer session I, 2018; prerequisites: 6.0 credit hours in Spanish. By taking this course in Mexico, students will have the opportunity to have unique experiential learning opportunities as they will visit the National Museum of History, the National Archives, the Museum of Anthropology and major historical sites as the City of Teotihuacán and the city of Puebla. This course aims to introduce students to Latin American travel literature and raises questions about nature, identity and culture. The course focuses on 16th century Spanish missionaries, the accounts of 19th Century European explorers, and contemporary Latin American authors whose narratives focus on Travel.
In order to be eligible for this program students need the approval from their advisor at UPEI and the program coordinator at SMU (for UPEI, this is Dr. Pamela Bastante in Dept of Modern Language pbastante@upei.ca). Cost of the program is approximately $2,000 plus airfare, insurance and transportation within Mexico.
Watch a video about the school
---
Off the Beaten Track Summer School for Anthropology and Ethnography 
Location
Dates
Session 1: June 5 - June 24, 2018
Session 2: July 2 - July 21, 2018
Session 3: July 29 - August 17, 2018
About the Summer School
The Off The Beaten Track program started in 2006 and is now - with 24 editions over the past 12 years - the longest standing anthropology field school in the world. Our basecamp is located on the islet of Gozo, one of the three inhabited islands of the Maltese Archipelago in the heart of the Mediterranean. The program offers a unique opportunity to acquire 'in the field' experience. The islands present a balance of past and present, where rural Mediterranean traditions intersect with foreign influence in small villages.
The Malta Summer School international faculty and staff help connect students and locals. They facilitate and monitor the progress of each student's project and guide all interested participants through the process of publishing the results of their research. The program is residential and conducted in English.
Please refer to our basic brochure.
The participants
The field school is directed towards young anthropologists and cultural scientists; however, any individual who would like to learn about anthropological research and fieldwork is welcome. Previous knowledge or experience is not required. We aim for an individually tailored program that can start at any level. Even PhD research (or pre-research) can be included and guided. The school has a strong socio-cultural focus, but any topic can be covered in the individual program of the student. Each session has a maximum of 16 participants with a 2:1 student to staff ratio. Places are confirmed on a first-come, first-served basis to suitably qualified candidates.
Price
The tuition fee is 3,250.00 euros. This fee includes:
Full Board (accommodation, food, drinks)
All program related activities
Official Attendance certificate and transcript
Supervision with fieldwork analysis and in the write-up stages
How to apply
Full details of the International Summer School including how to apply and entry requirements can be found at: http://anthropologyfieldschool.org/page8/index.html
Deadline
Rolling admissions, with a maximum of 16 participants per session. When it is full, it is full (usually by the beginning of December).
For further information, please visit our website www.anthropologyfieldschool.org
International Liaison Officer