Student/Alumnus Profile of the Month - March 2016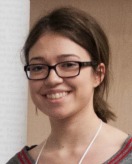 From February 5-7, eight students from the Department of Physics attended the Atlantic Universities Physics and Astronomy Conference. Of these students, seven gave presentations about their workshops and Deanna Kerry received the award for excellence in science communication. Deanna is doing research under the supervision of Dr. James Polson to determine whether entropy plays a factor in segregating bacterial chromosomes. 
The UPEI Department of Physics was one of the best represented universities in terms of numbers of students attending the conference the professors who were judging the presentations were very impressed by the variety and complexity of the research projects done at UPEI, as well as the level of professionalism and confidence of the UPEI physics students.
The Faculty of Science is very proud of your accomplishments!